Jumper Cable Tester: The Latest in Railway Maintenance
Your Car Equipment and Locomotive maintenance will often involve searching for causes of trainline problems, especially in the rail jumper cable assemblies. One of our Veritranz branded products, the rail jumper cable tester, was designed to test rail industry cable assemblies for continuity and shorts while providing a current breakage test and external megohmmeter test of insulation to ground. Put our advanced, accurate tester to use in your railway maintenance locations for a quick and easy to use solution as New Jersey Transit and AMTRAK have.
Key Features of This Railway Maintenance Product
The unit is designed to test 27 pin TC and COMM jumpers, 6 pin 480 HEP, and 18 pin DTN (UIC), but can be customized to test other cable assembly types for all railroad maintenance projects.
The unit features an LCD display that indicates pin number and test results (pass, open, short).
The unit features a 12 gauge NEMA 4 wall-mounted enclosure measuring 36"H X 36"W X 12 "D with all panel mount devices sealed.
The unit features a selector switch for cable type, push-button switches for pin selection, and a reset switch.
For the safety of your maintenance team, our tester has a "kill" switch installed in the door to cut off the 120 VAC power to the unit.
VeriTranz by Veritech Inc. has several solutions for the rail industry's maintenance needs, and our automatic rail cable testing is a great place to start. To order a rail jumper cable tester or other product, call our team.
VeriTranz Rail Jumper Cable Tester, NJ Transit version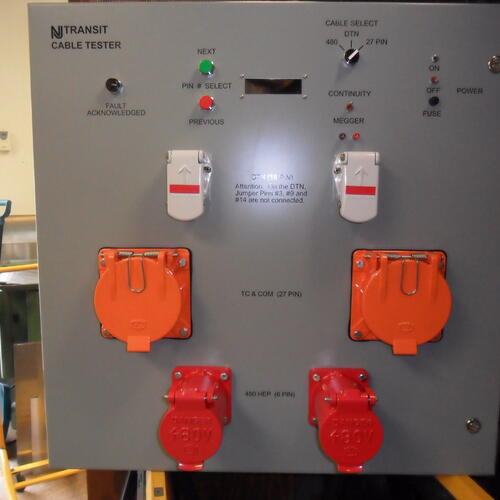 Nearly ten years ago, we were asked to develop a new prototype for a Rail Jumper Cable Tester to test the 27 pin TC and COMM cables, 480 HEP cables and DTN cables at New Jersey Transit. The new device needed to alleviate a problem with their own tester that would pass cables for continuity and shorts, even if one of the wires was hanging on by a few conductors. It also needed to be automated to allow for faster and easier testing. The current breakage test we added would cause damaged wires to fail so that a jumper cable would not be returned to the field to fail under operating current.
The unit also included an external megohmmeter circuit for insulation resistance or Hi-Pot testing of the cables, allowing NJT maintenance people to use their own megohmmeters. The unit is selectable for cable type under test and support semiautomatic or fully automatic testing. The bright and easy to read LCD display will indicate opens, shorts and high resistance with the proper pin numbers displayed. The test can be aborted after the first failure or you can continue testing to find all of the possible faults. After the cable passes the initial tests, the unit is switched to the Megger circuit and then tested for insulation resistance. New Jersey Transit has 8 of these units installed around their commuter rail system.
VeriTranz Rail Jumper Cable Tester, AMTRAK version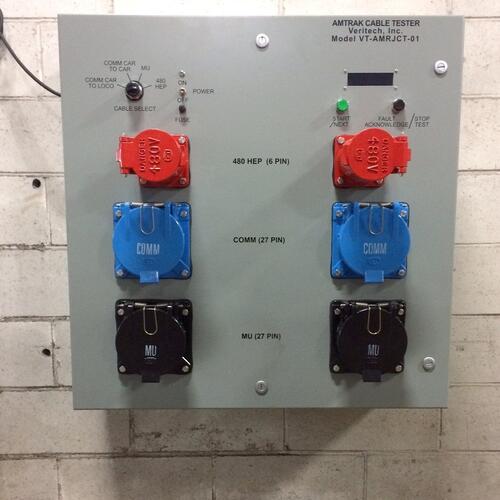 Several years ago, we were approached by a Locomotive Equipment engineer at AMTRAK to develop a custom version of our Rail Jumper Cable Tester specifically for his the National Passenger Railroad. They had previously purchased very complicated and hard-to-use cable testers from another company and the Car and Locomotive Maintenance technicians all but stopped using them. This meant that many cables were being used but not tested which led to regular trainline failures at multiple locations. They wanted a solution that was accurate and made cable testing of the jumpers fast and simple. They also wanted the megohmmeter or insulation resistance testing to be an internal function of the machine along with a fully automated process and a informative and simple Human Interface.
Here is a link you can copy and paste to your browser for a video demo of the device. https://www.dropbox.com/s/td7g6n9mjn0wlrm/recover_1596892807903.mp4?dl=0
The resulting unit was able to test a 27 pin jumper for opens, shorts, current breakage and insulation resistance in about 2 minutes. The wires of the 27 pin jumpers and control pins of the 480 HEP cables are insulation tested at 500 volts DC and the power pins of the 480 HEP cables are tested at 100 Volts DC. The first unit was installed in the Sunnyside Yards in Queens, NY and led to a serious reduction in trainline failures after many bad cables were weeded out of the their inventory. The technicians are happy to use it because there is no logins or PC-based programs to load and they can get right to the business of testing cables quickly and easily. They now have units installed at the Penn Coach Yards in Philadelphia, PA, and Rail Maintenance facilities in Oakland and Los Angeles, CA. as well as Washington DC and Chicago bringing them to a total of 6 units in service and one more on order for AMTRAK/CDOT in Connecticut.