Your Transit Agency's ( Fill in Name ) Next Failing Component (Fill in part) Issue
Since our first stainless steel float switch replacement for a failing plastic upper
coolant level float switch on NABI buses over 7 years ago,VeriTranz by Veritech
has been helping transit agencies with their OEM bus component issues and helping
to reduce road calls and the labor costs of constant replacement of less than satisfactory
components. If you are seeing failures of a particular part and getting little or no help from
the OEM to solve the issue, let us get to work for you and keep your buses where they belong . . .
ON THE ROAD ! !
Windshield Wiper Motor Replacement Solution for Large Canadian Transit Agency
A few months back, we were contacted by one our coolant level sensor
customers in Vancouver, Canada about failures of the wiper motors on
their transit buses. Because of the rainy and misty Pacific Northwest climate, the
wipers are operating a large percentage of the time and the current motors will stall
or operate intermittently. We found what we believe to be a better quality motor from
a US manufacturer of wiper equipment and after some adapting for harnessing and linkage,
the first motor is being evaluated on one of thier buses. The plan is to move forward in
the Fall with a 10 bus, 20 motor pilot study to better evaluate the new replacement.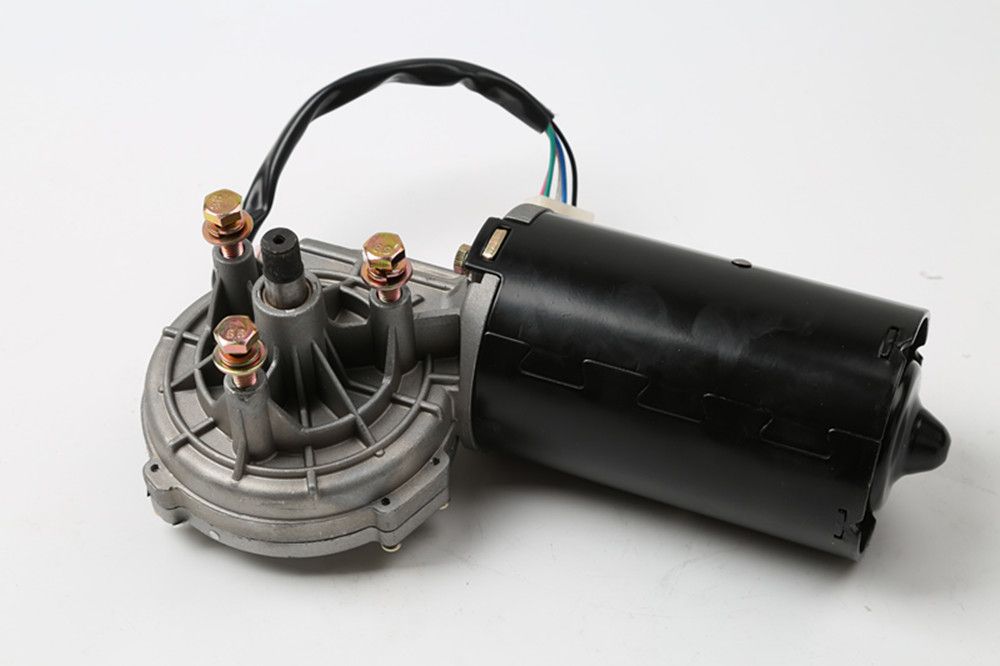 New Solenoid Valve for Transit Bus Brake Pressure Interlock
One of our great early adopter transit agency customers who has our coolant level sensors and brake pressure switches installed on their Gillig buses, contacted us about an issue they were having with the Brake Interlock Solenoid Valve. There are two of these in each bus, one for the front brake operator interlock and one for the rear. On some buses traveling on routes with frequent stops, the solenoid valve is activated at every stop to release the interlock. The coils on some of these valves have been overheating which leads to the interlock remaining on. The bus then has to be towed in because it cannot move with the now stuck interlock. We have identified the root cause of these failures and will be having new stainless steel valves with higher temperature components fabricated in the next few months. We will send two of the new solenoid valves to our customer in Florida for evaluation and if all goes well, they will be campaigning their affected fleet. If your agency is experiencing stuck interlock conditions due to failing solenoid valves, please let us know and we can include you in our evaluations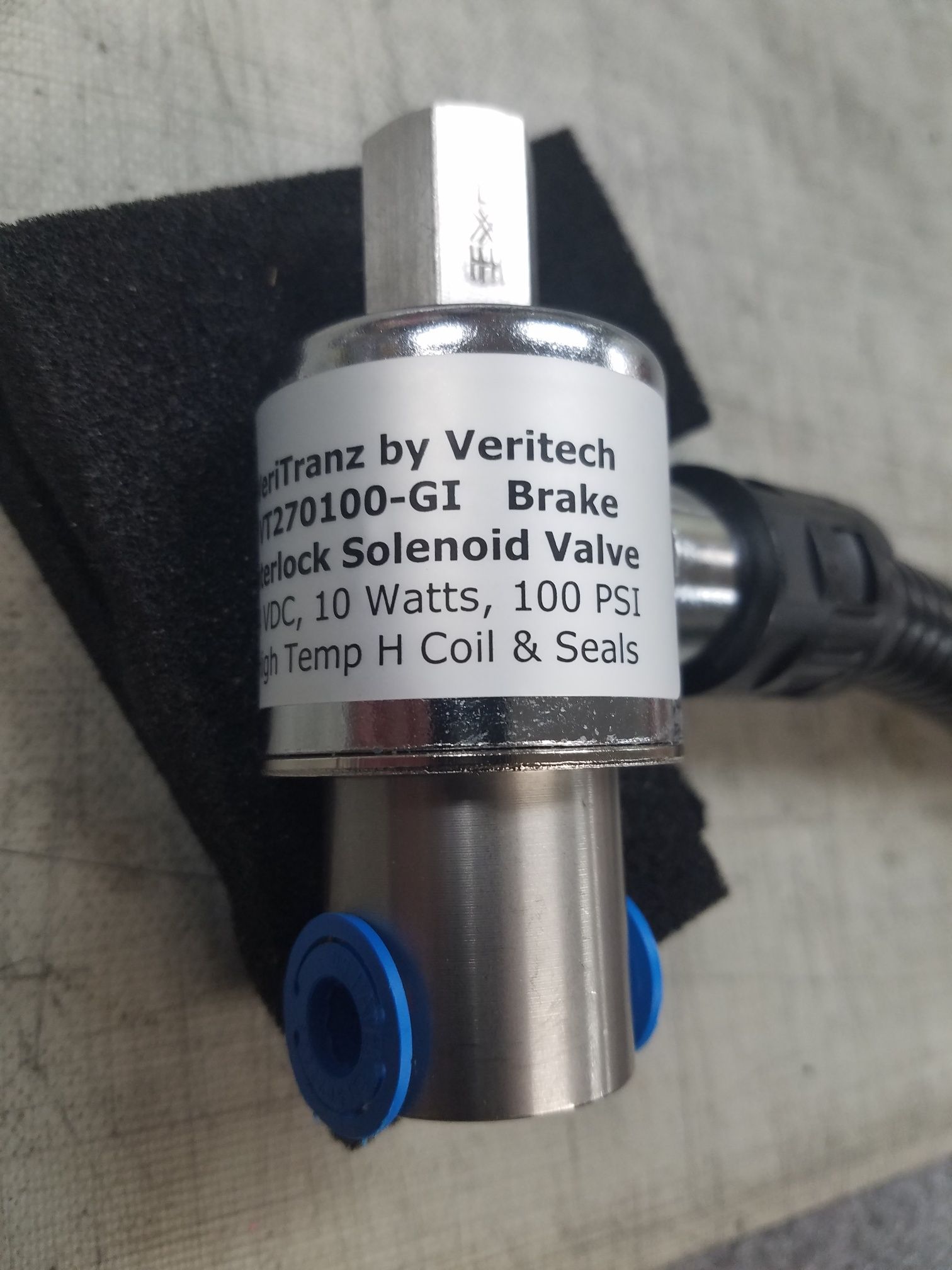 AMTRAK Automatic Rail Jumper Cable Tester
After seeing our Semi-automatic Rail Jumper Cable Tester at a New Jersey Transit location, an electrical engineer for locomotives contacted Veritranz by Veritech about the possibility of us developing a custom unit for AMTRAK initially for their Sunnyside Yards location.
He wanted a fully automated unit for continuity, shorts and current breakage along with an integrated high voltage section for testing insulation resistance (Hi Pot) on the cables. The final design allowed complete testing of a 27 pin jumper in about a minute and testing of the 480 HEP cables in less than two minutes.
With no set up time required along with fast testing speed and ease of use, our device was very well received by the AMTRAK maintenance employees and we recently received an order for their fourth unit to date. It has dramatically reduced trainline failures on AMTRAK's equipment by quickly and efficiently weeding out bad jumper cables.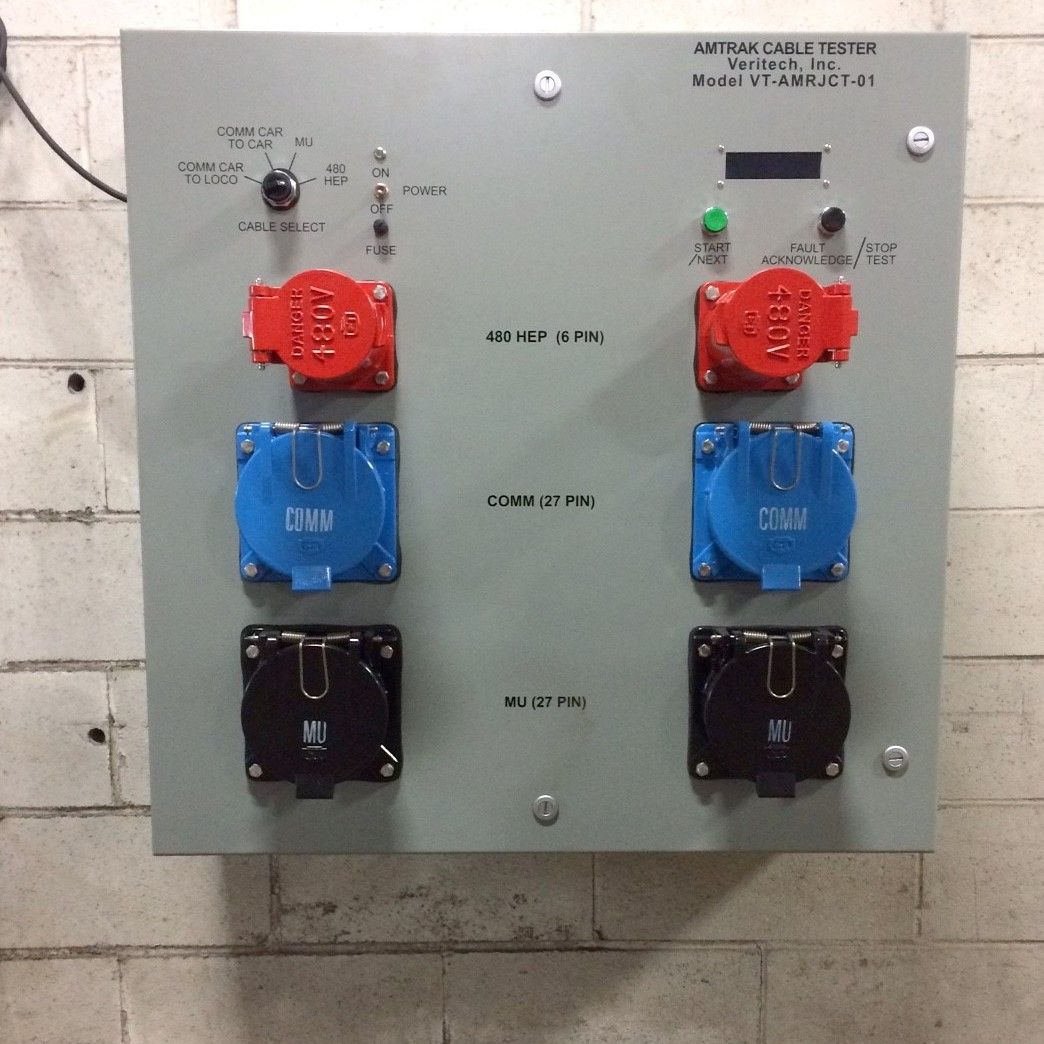 Heavy Duty Transit Bus Coolant Surge Tank
In the Spring of 2019, we were referred to a large Midwest transit agency by one of our OEM customer representatives for help with their coolant surge tank issues on their transit buses. It seems they had experienced an extremely high failure rate on some OEM surge tanks for many years which required constant welding and repair to keep in service.
These failures were very costly for the agency due to the extensive person hours required to remove, repair and reinstall the tanks. They were looking for a much more robust, drop-in replacement tank to be designed and manufactured. They had requested a 3X safety factor meaning that the tanks needed to be able to contain a nominal temporary pressure of 30 Psi. After extensive analysis of the OEM tank, we set about designing a new tank which could conceivably last the life of the bus and exceed all customer expectations. Five prototype tanks were produced and are undergoing an extensive evaluation at the customer agency conducting the evaluation. Please let us know if you are interested in this product for your own buses.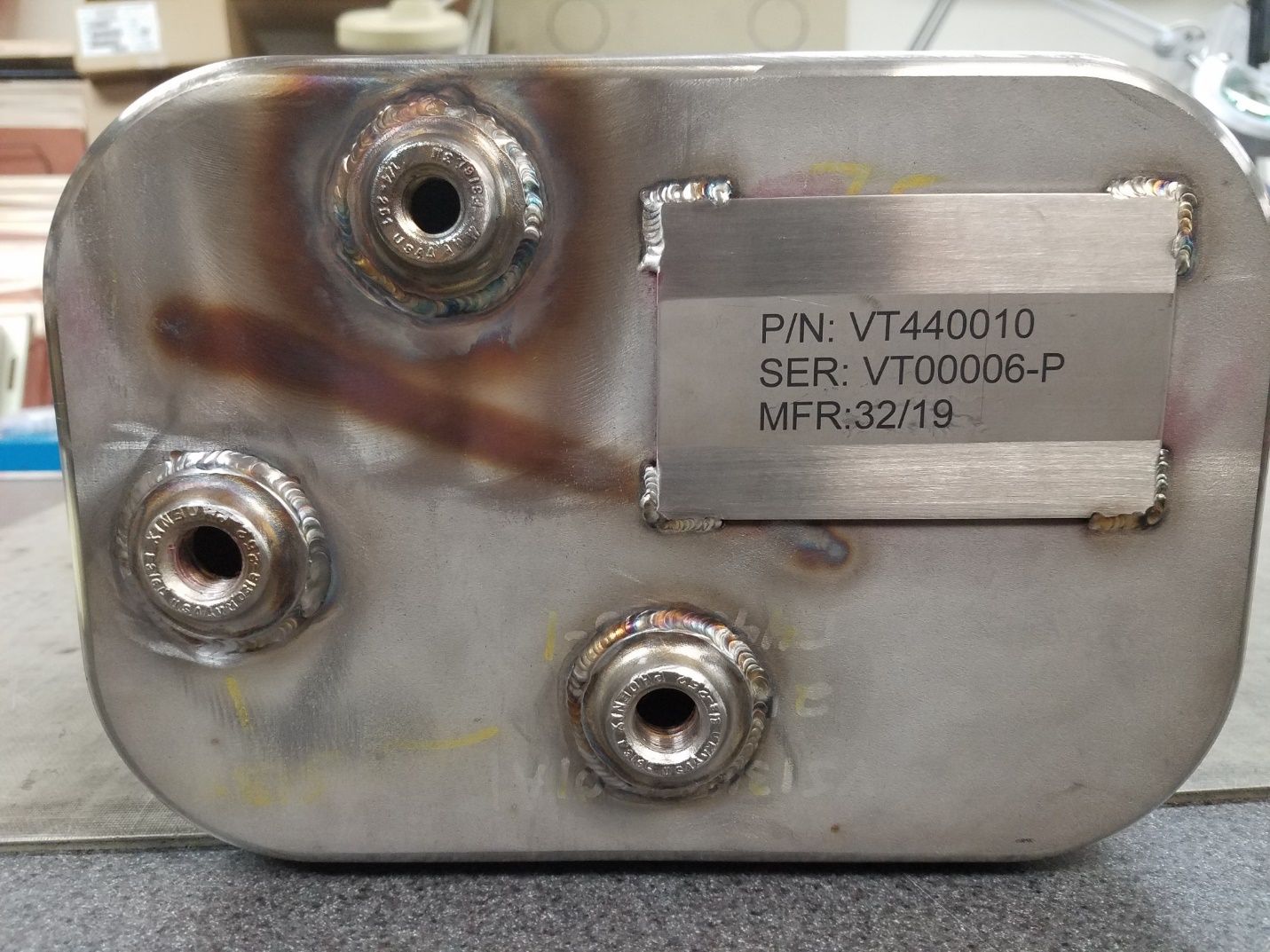 Coolant Level Sensor Replacement for 4 Pin Capacitance Type Sensor
In December of 2019, one of our transit agency bus maintenance engineers contacted us about failures of a 4 pin capacitance type coolant level sensor installed on his 2018 transit buses. While the agency has many of our stainless steel coolant level sensors and hydraulic level sensors successfully installed on their buses, they have had enough coolant related issues to warrant testing of the sensors during PM.
He was alarmed to find that many of the capacitance sensors they tested failed in the opposite mode of the previous plastic sensors which gave a false positive error code to the ECM. These sensors, however, failed to send an error code in the absence of coolant, exhibiting a false negative mode of failure. This mode of failure could lead to a potentially destructive overheat condition with the transit bus engine. Our stainless steel float style replacement is the VT220594-FZ pictured on the right.
New Custom 36 position Rail Jumper Cable Tester for Long Island Railroad
We have adapted our AMTRAK cable tester design to add 9 positions to build a new Custom unit for Long Island Railroad (LIRR). Unlike most other railroads, they employ 36 postion jumpers for the MU and COMM jumper cables. They also require some shield testing for certail sets of wires. This unit will be built and deleivered most likely in September.
Latest Update on this project : We delivered a fully operational 36 poition Rail Jumper Cable
Tester to Long Island Railroad in December 2022 and it has been evaluated and installed.
The device is working very well and should siginifcantly reduce trainline failures in their fleet.
KEOLIS purchases and VeriTranz delivers their first Rail Jumper Cable Tester
Keolis NA, who maintains and operates the Massachusetts Bay Commuter Rail for MBTA in Boston
has purchased one of our AMTRAK style testers to test their jumper cables and reduce trainline
failures. This was our first tester with an alternate style conector for the 480 Head End Power
connector. This unit should be installed at the Somerville Engine Terminal (Big Blue) very soon.
SEPTA Rail Scanner Pro build for 6 more units
SEPTA in Philadelphia has ordered 6 more of our Scanning Audio Frequency Rail Current Detectors
(Rail Scanner Pro) to supplement the Norristown HighSpeed Line extension. This will bring the
agency to a total of 29 units between Subway, Light Rail, Commuter Rail and the High speed Rail.
SEPTA also has more of our coolant level and oil pressure sensors installed on their bus fleet than
any other agency in North America.