Communications and Signal Equipment
Our first experience with Rail Communications equipment occurred in 2010 and evolved from our then new Business Development Manager's 10 year relationship with New Jersey Transit, both on the Rail and Bus side. A meeting with the Communications project engineer and Manager of the Radio Shop led to our first development project, the redesign and retrofitting of radio heads for the FCC narrow-banding mandate. We delivered three different designs with full production of the retrofit kits over a ten month period, saving the agency over $650,000 versus a new equipment purchase.
We also developed a new multi-frequency troubleshooting device for the Signal maintenance group at NJ Transit that allowed faster and more precise detection and location of faults in the track circuit and other signal issues. This device later evolved into our Rail Scanner Pro scanning audio frequency rail current detector used by railroads and transit agencies all over the country from Boston to Los Angeles.
One of our current projects involves the redesign of the control boards, wiring, and box components for two different Public Address/Intercom (PA/IC) units on the Commuter Rail run by Keolis at MBTA in Boston. The agency wanted to retain the original enclosures but the PA/IC heads were in serious need of an update. We redesigned the boards for ease of repair with newer, more reliable SMT board components and separate cable assemblies for each box component's connection to the control board. These will be provided as retrofit kits so the agency can do the changeover in house.
VeriTranz Radio Head Retrofit Kits for Narrowbanding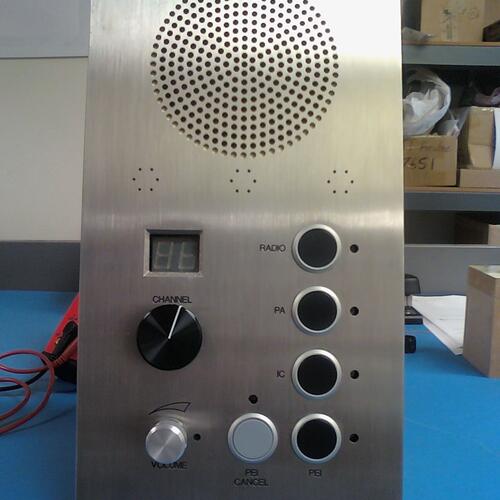 The image on the left of this page shows the Radio Head, a device used to remotely access the train radio on a locomotive or cab car on New Jersey Transit's rolling stock. The engineers at VeriTranz by Veritech designed new control boards which would allow three different brands of radio heads to be changed from wide band 12 channel devices to narrow band 24 channel devices to comply with the 2004 FCC Narrowbanding mandate whose deadline was January 1st, 2013. The image on the left is the radio head on the Multi level coaches.
In order to make a cost effective solution that would satisfy everyone involved, we developed retrofit kits that allowed the Radio Shop personnel to make the narrow band conversions to the existing radio heads in their own shops. This way the units could be brought in and worked on a little at a time but within the deadline of the Federal mandate. The savings for NJ Transit over purchasing new equipment was very significant.