Hydraulic Level Sensor Solutions for Transit Bus Maintenance & Repair
Late in 2018, VeriTranz by Veritech Inc. began to hear about problems with the optical hydraulic level sensors on transit buses installed by OEMs across the United States. These components were nearly identical to the optical coolant level sensors we had developed replacement stainless steel float sensors for, and the problems they were causing in transit bus maintenance were similar. We design and ship New Jersey-made hydraulic level sensors that avoid the errors of OEM sensors.
The problem we faced in making a version for the hydraulic application was the kind of the fluids used in these systems. The poly float material used on our coolant level sensors performs well with extended life coolant, but the different fluids used for hydraulics are more chemically aggressive. We tested many different plastic materials in several hydraulic fluids, including ATF4 and synthetic engine oil. One particular float material had the best combination of chemical resistance and low specific gravity. We used that proven material to produce our blue poly floats for 3/8 NPT and ¼ NPT hydraulic level sensors. Our replacement for the optical hydraulic level sensor is a VT220738-OPH.
Our Available Bus Hydraulics Sensors
In 2019, several agencies contacted us about a newer hydraulic level sensor being installed by the three major transit bus manufacturers. This 3-wire ultrasonic bus hydraulics sensor caused a false positive error code, telling the bus that the fluid was low because bubbles or foam were lodged in the ultrasonic port of the sensor, which it cannot detect. VeriTranz developed three-part numbers because each of the OEMs used a different version of the sensor. There are two 3/8 NPT units with 3-way Weather Pack plugs, the VT220738-USG and VT220738-OPH, and a ¼ NPT version VT220614-USN. Just let us know the make of the bus and we can guide you to the right version. We are currently working on a solution for the New Flyer ultrasonic hydraulic level sensor which may involve a vertical float device.
VeriTranz by Veritech is pleased to announce that TriMet, in Portland, Oregon has placed orders for and installed 400 of our -OPH and -USG versions of our hydraulic levels sensors, our largest single implementation to date.
View our part numbers below to learn more about our bus hydraulics sensor solutions. To place a custom order that addresses your exact needs, contact us online.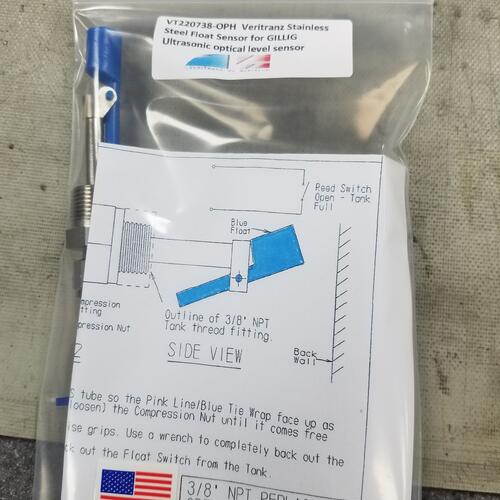 Many of our transit agency customers have informed us about failures with the 3/8 NPT optical and ultrasonic hydraulic level sensors on their buses. VeriTranz by Veritech Inc. has developed a new 2 wire stainless steel float sensor to replace these powered 3 wire optical units.
The new sensor, our part # VT220738-OPH, is installed in the opposite orientation as our standard coolant level sensor to mimic the output of the optical sensor and features a blue low-density polyethylene float material that works well with specified hydraulic fluids such as Syntech, engine oil, and ATF-4. We are installed in twelve transit agencies at this point. We also now have replacements for the ultrasonic hydraulic level sensors on newer Gillig, NOVA and New Flyer buses.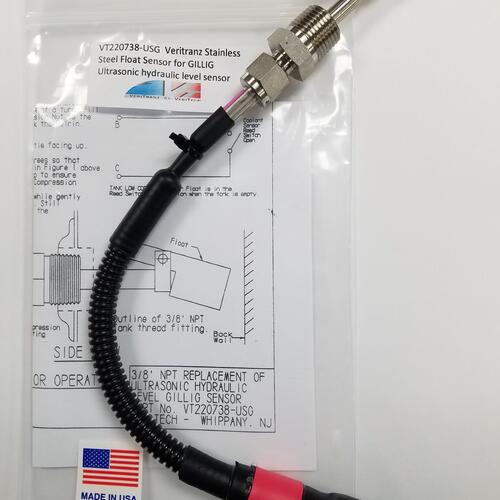 Our VT220738-USG is a two wire stainless steel float style replacement for the 3 wire ultrasonic hydraulic level sensor installed on Gillig buses. We were alerted about the false error coding of the OEM sensor by many transit agency customers who were already using our coolant level sensors. The issue with the ultrasonic sensor appears to be associated with the formation of foam or bubbles in the hydraulic reservoir. The foam or bubbles can lodge in the viewing port of the sensor rendering it unable to detect the presence of hydraulic fluid. At that point the sensor would code reporting a low fluid condition.
Our VT220738-USG is "plug & play" with the OEM sensor, using the same 3 position Weather Pack plug and our special BLUE poly float material that is chemically resistant to all of the commonly used hydraulic fluids on transit buses. Unlike the -OPH version, the -USG is installed right side up as it replaces a normally open switch device.