Miscellaneous Bus Maintenance Parts
Veritranz by Veritech can help your Bus Maintenance people procure the right components, connectors, terminals and accessories, as well as many other electrical and electronic parts. We identify OEM parts for our customers, helping them to avoid buying costly components from the bus manufacturer where possible. We can help your agency with hard-to-find, obsolete or discontinued parts or do the component engineering to help specify a new replacement. We offer numerous application-specific connector kits for the repair of bus harnesses and cable assemblies avoiding high priced OEM cable assemblies.
The Veritranz team can also redesign failing cable assemblies on your buses improving environmental protection and ruggedizing them for better mechanical longevity. We do this by using high quality OEM connectors from Deutsch, Delphi (Aptiv) and others as well as provide coverings like solid conduit and adhesive lined heat shrink tubing. We specify the best terminals available with nickel, silver or gold plating to avoid corrosion.
See our Water-In-Fuel Sensor Harness product information below for details about one of our great retrofit designs. Our VeriTranz brand enhanced pigtails for headlamps and other applications, makes retrofitting to higher quality materials fast and easy. We cover all of the major transit bus halogen headlamp pigtail types including H9, H11, H12, 9005, 9006 and 9007 as well as offering rugged long-life replacements for the lamps themselves.
Please feel free to bring to us any issues you are having with coolant level sensors, hydraulic level sensors, oil pressure sensors, brake pressure switches, wire harnesses or other components. Contact us with your application and put our team to work on a custom solution.
RETROFIT WATER-IN-FUEL SENSOR HARNESS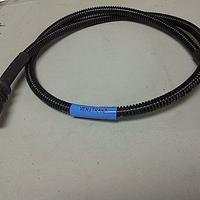 Veritech Inc., an engineering design and consulting firm working in the Mass Transit space, has designed and fabricated a retrofit harness to replace the OEM Water In Fuel (WIF) sensor harness in New York City Transit's Orion VII diesel hybrid buses. A high failure rate of the OEM harness (470 out of 900 buses coded for this is-sue) prompted NYCT's Technical Service group to contact us for a solution. After see-ing the OEM harness, it was clear that it was not up to the task. The harness was re-designed using higher quality connectors, terminals, wire, conduit, and heat shrink tubing to create a water proof harness. NYCT has purchased over 700 units to date.
While on a visit to a NJ Transit bus garage, we found that their NABI buses used a similar harness, although it was about 15 inches longer. By making the harness longer, the NABI WIF sensor harness can be replaced with our superior harness. The same version can be used on New Flyer buses and we most recently developed a plug X plug version for Gillig buses. The part number for the NABI/New Flyer version is VT220474 and the Gillig version is part number VT330136.
VeriTranz Headlamp Pigtails and other assemblies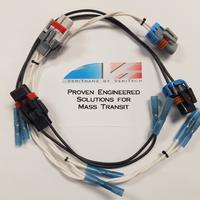 While visiting Transit Bus garages around the country, we saw that the quality of many aftermarket headlamp pigtails and other cable assemblies was very poor. Our customers complained that the pigtails were so bad, they had to change them regularly and the plug would melt into the lamp socket, ruining the the pigtail and the headlamp at the same time. Since we have an expert on automotive connectors on staff, we set about designing the highest quality pigtail on the market.
First we only use the original OEM connector, not some copy made in China. So we start with the genuine Delphi or TE plug and accessories, use the higher quality sockets made from Beryllium Copper and silver plated, not tin plated brass ! We use teflon coated Mil-Spec wire with silver coated conductors for great heat resistance and conductivity and adhesive lined heat shrink butt splices for fast weather proof connections to the harness. We have many different versions available such as 9005, 9006, H1, H9, H11 etc... We can also make repair pigtails for any automotive connectors on your transit bus to make harness repair a snap ! Let us know your needs, send us some photos and we can get your new solution to you simply and quickly.
VeriTranz Application Specific Connector Kits
VeriTranz by Veritech offers nearly 100 application specific connector kits for your transit bus harness and cable assembly repair needs. Many agencies experience problems with a lack of consistency in electrical repairs on the buses due to loose connectors, terminals and accessories being used on the maintenance floor. Many OEM supplied master kits may have been depleted of their original stock leaving gaps in coverage of certain parts of the harness. At Veritech, we sweat the details to provide the proper plugs, receptacles, sockets or pins and important accessories like wire seals, TPAs and cavity plugs into kits that are specific to a particular application like the VGT Actuator Plug Kit on NABI buses or the Casco coolant level sensor plug on New Flyer buses.
We recently developed 3 specific connector kits for Community Transit in Everett, WA for the Thermo Plus auxiliary heater units on their buses. They were having a number of failures due to heat and wanted kits that contained all the proper OEM parts plus spares so they could begin a repair campaign. Several years ago, we customized the 24 and 32 position ESS connector kits for a 350 bus Mid-life of New Flyer hybrids at Washington Metro. This involved strapping into an overhead bus safety harness, getting on the roof and evaluating what was needed for each repair. With fresh photos in hand, we identified all of the parts necessary to assemble each kit and sent them 10 of each to try out. They were delighted and we received a Purchase Order for 300 of each !
Let us know your pressure points in terms of bus electrical issues and we will get to work on a solution.