After a wonderful referral by an employee of our largest customer, we were approached by the Bus Maintenance Engineering dept. at Chicago Transit Authority to develop a replacement for failing coolant surge tanks on one brand of their transit buses. After another OEM had installed 400 of our stainless steel coolant level sensors on their warranted fleet at CTA, the agency had a high level of confidence in our engineering capabilities and quality of our components.
A complete Finite Element Analysis (FEA) was performed on the original OEM tank which demonstrated that there were serious flaws in the design that led to the very high percentage of failures in the fleet.
In order to keep buses on the road, the agency had to do welding repairs on the tanks constantly, often times repairing the same tank more than once. The agency asked us for a 3X safety factor in our design so our new tank design needed to withstand a maximum testing pressure of 30 Psi and an operating pressure of 15 Psi. With our seriously improved design, which moved the stress points away from the tank edges to welded seams on the body and employing machined end caps, all of the five prototypes tested above 33 Psi. Our destructive maximum pressure test topped 160 Psi !
The tanks have undergone an evaluation of over 20 months now on buses at CTA with no issues and we have delivered 40 tanks so far with another 200 on order. We are expecting a positive outcome for implementation on a significant number of additional buses at this agency and other agencies with similar problems. We have added a second part number, VT440020 for a different version of the CTA tank which repersents about 35% of the affected fleet.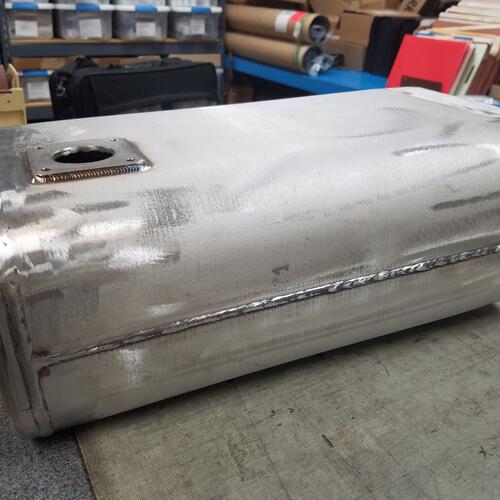 Our VT440010-P prototype 304 stainless steel surge tank was designed to handle the extreme environment of the modern transit bus, withstanding constant thermal cycling of the coolant system as well as shock and vibration during normal operation of the the bus.
Our coolant surge tanks are produced with state-of-the-art fabrication and welding processes to insure the highest quality and performance as well as superior longevity. They would be a welcome addition to the transit buses of any agency that has suffered the loss of service and cost of repair or replacement due to lesser quality OEM coolant surge tanks. Contact us with your coolant surge tank challenges and let us modify our existing design or design an entirely new tank for your fleet.